Yard Manager is a module with DAS Anywhere that offers a graphical representation of the depot. It's a mobile solution that breaks down physical barriers. It merges vehicles and people together where they are most needed – in the yard.
Yard Manager for DAS Anywhere is a new concept set to transform the very nature of the early morning runout, through a simple, easy to use Tablet PC-based system.
Developed for DAS Anywhere – but fully integrated with Trapeze's current Duty Allocation System (DAS) – Yard Manager enables garage supervisors and controllers to reduce the costs associated with managing vehicle run-out, allocation, and many other aspects of depot management.
The system optimises depot efficiency, ensures yard safety and will pave the way for electric fleets by informing dispatchers of a vehicle's charge state. But perhaps most significantly, Yard Manager is a major step towards the flexible, mobile depot of the future – a future which is now being rapidly realised through DAS Anywhere.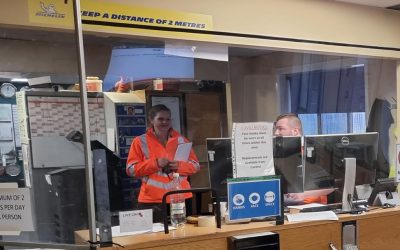 Yard Manager brings the traffic office out into the yard where it's needed most.
read more
Do you want to know more? Get in touch!