Yard Manager is a module with DAS Anywhere that offers a graphical representation of the depot. It's a mobile solution that breaks down physical barriers. It merges vehicles and people together where they are most needed – in the yard.
Yard Manager for DAS Anywhere is a new concept set to transform the very nature of the early morning runout, through a simple, easy to use device-based system.
Developed for DAS Anywhere – but fully integrated with Trapeze's current Duty Allocation System (DAS) – Yard Manager enables garage supervisors and controllers to reduce the costs associated with managing vehicle run-out, allocation, and many other aspects of depot management.
The system optimises depot efficiency, ensures yard safety and will pave the way for electric fleets by informing dispatchers of a vehicle's charge state. But perhaps most significantly, Yard Manager is a major step towards the flexible, mobile depot of the future – a future which is now being rapidly realised through DAS Anywhere.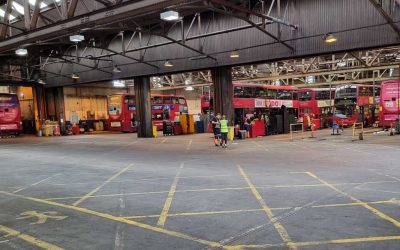 The morning run-out has a huge impact on business performance – Yard Manager from Trapeze offers maximum efficiency.
read more
Do you want to know more? Get in touch!